Vietnam and India have exchanged the orientations and concrete measures to early promote atomic energy cooperation into the depth through the concrete reseaching and surveying activities on demand and potential of Vietnam for India to send a mission to Vietnam to build thoroughly the cooperation programs with the focuses and key points.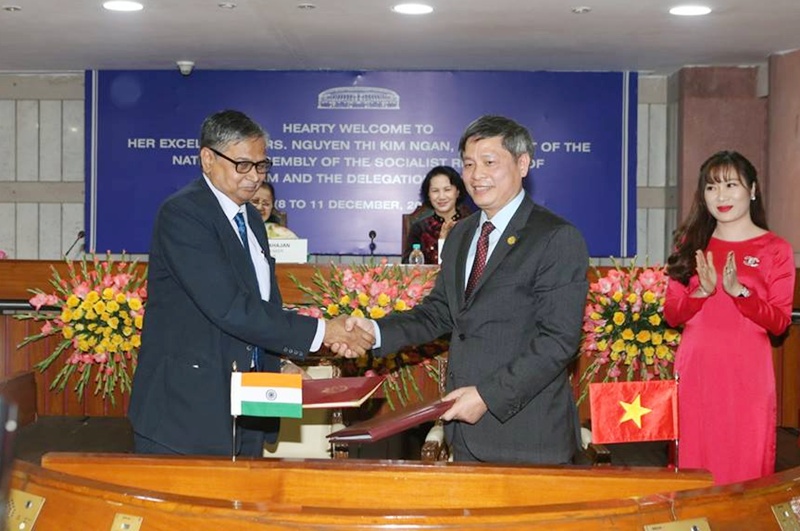 The signinh Ceremony of Agreement on Vietnam – India Cooperation on Atomic Energy
On December 9, 2015 in New Deli, in framework of visit to India of Vietnam National Congress Delegation headed by the Chairwoman Nguyen Thi Kim Ngan, the Signing Ceremony of Agreement on Vietnam – India Cooperation on Atomic Energy Use for Peaceful Purposes took place under the witness of the Chairmen of National Congresses and high level leaders of States and Governments of Vietnam and India.
Before the signing ceremony, Mr. Pham Cong Tac, Vice Minister of Vietnamese Science and Technology Ministry, a member of Vietnamese delegation had a working meeting with Dr. Sekhar Basu, Vice Minister of Indian Atomic Energy Ministry in office of Indian Foreign Affaire Ministry.
At the meeting, Dr. Sekha Basu informed that India will help Vietnam to build a Center of Nuclear Science and Technology including a New Researching Reactor for deploying application of atomic energy in medical sector, especially producing radioisotopes and developing cancer treatment methods; application of nuclear technique and radioactive technologies in industry, agriculture serving export; and training nuclear human resources. India expected to send a mission of atomic energy experts to Vietnam in March, 2017.
It should be noted that, at the meeting was presence of the Indian Extraordinary and Plenipotentiary Ambassador to Vietnam Mr. Parvathaneni Harish. This expressed a deep concern of India to atomic energy cooperation with Vietnam.
With signing the Vietnam – India Agreement on Use of Atomic Energy for Peaceful Purposes, it hopes that, in coming time, the activities on atomic energy cooperation with the actual contributions will become one of the main contents in of general cooperation program between Vietnam and India.
India is a state having a developed atomic energy industry and advanced scientific and technologic foundation with a lot of wide applications in socio-economic sectors. Especially, at the present, India is promoting development of nuclear power projects to guarantee stable electricity supply and participate in anti-climate change combat. India can by itself design, manufacture, construct, and operate nuclear power plants. The technology of nuclear power reactors of India has a good efficiency and high safety that is comparable to technology of the advanced industrial countries in the world.
VietnamEnergy.vn